Class F2 & Y1C
Autumn Term 2017
Welcome back!
We would like to take this opportunity to welcome our new children and parents in to F2/YR1! We are excited about getting to know you all and have planned lots of exciting learning and activities for this term.
The topic for this term is 'Marvelous Me' and 'Super Heroes'. We are going to begin by sharing pictures of ourselves from when we were a baby. Were you cute? Did you have chubby cheeks? You might even be able to see pictures of the staff! We will also be learning about our five senses and how we use our senses for lots of different reasons.
We will be learning all about super heroes and their special powers. What Super Hero are you most like? What is your special power?
In Autumn 2 all the children will be taking part in a school nativity and parents will be invited to attend a Christmas craft morning. The children will be given the opportunity to enjoy a Panto visit.
PE will be on Tuesday afternoons. Children are expected to bring their PE kit each week and leave it in school until the end of the week. Children will be given weekly homework and need to read at least five times a week to achieve the 'In it to Win Reward' half termly and at the end of the year the 'Always Trip'.
We have an open door policy, if you wish to speak to us about anything then please do not hesitate to contact us. Please feel free to leave a comment for us at the bottom our page, where it will be gratefully received, thank you.
Any support, access to books, the internet and trips out will greatly enhance your child's learning experience and engagement in the topics. All seven areas of learning will be covered using this term's themes and following the children's interests.
Mrs S Cronin
& Mrs Mjadzelics
Please take the time to open the links below to follow our Curriculum and English and Maths PDFs to support your child at home with.
EYFS CURICULUM EXPLAINED.docx Curriculum map F2Y1C 2017.pdf
tricky word flash cards.pdf snakes and ladders.pdf shape dominoes.pdf outdoor maths.pdf number cards.pdf
MiniJollyPhonicsFlashcards.pdf letter trace book.pdf large dice template.pdf game counters.pdf
100 high frequency words.pdf games for supporting your child at home with mathematics.pdf
Foundation Stage transition-policy.pdf
Friday 8th December
Our Achievement Winners!
Pixie-Rae, Callum, Joseph and Evie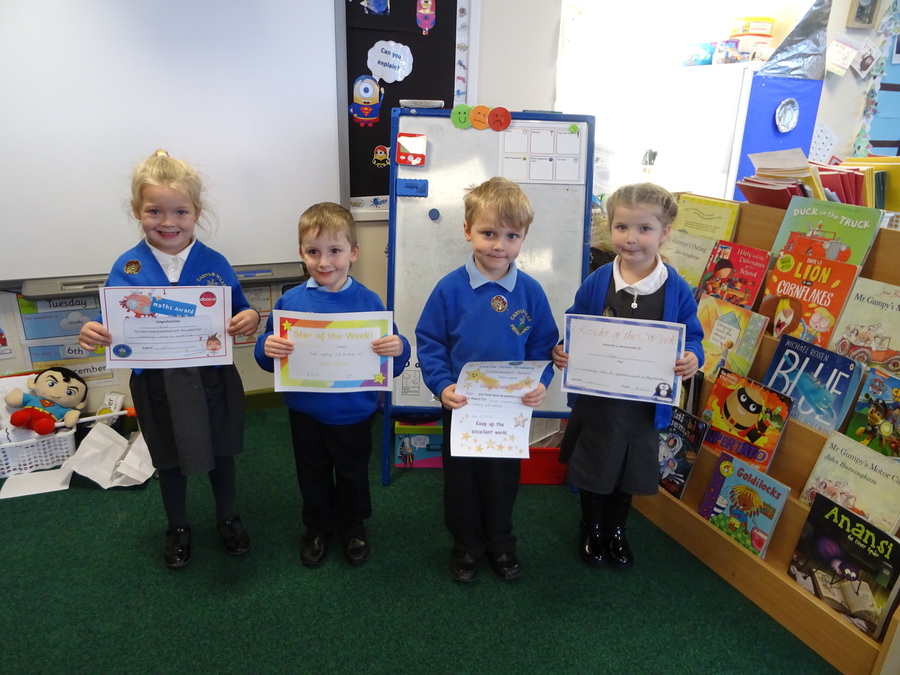 Friday 1st December
Our Achievement Winners!
Alec, Tucker, Auden, Elli & Summer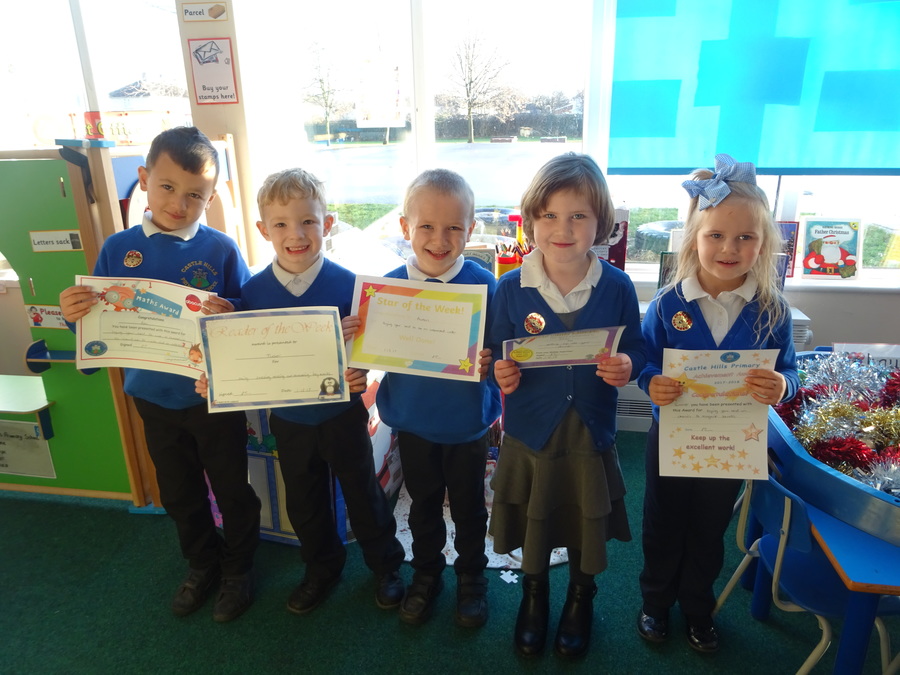 ICE
Our Children investigated water as a liquid and a solid and found that this experiment is reversible in our Science lesson.
They used salt, sugar, warm water and cold water to see which melted the ice the quickest.
Some children used frozen water, salt and watercolours to create a rainbow. Understanding that salt can cause crevices in the ice and painting on watercolours that ran through the block of ice where the salt had melted it.
We used coloured ice cubes and mixed together two colours and to try to predict what colour the two together would create.
How can we release 'frozen toys' from containers? The children used warm water and different tools to release the toy from their ice tombs to see which was the most effective.
As you can see, the children had lots of fun with this experiments
Friday 24th November
Our Achievement Winners!
Pixie-Rae, Elektra, Alec, Teigan & Millie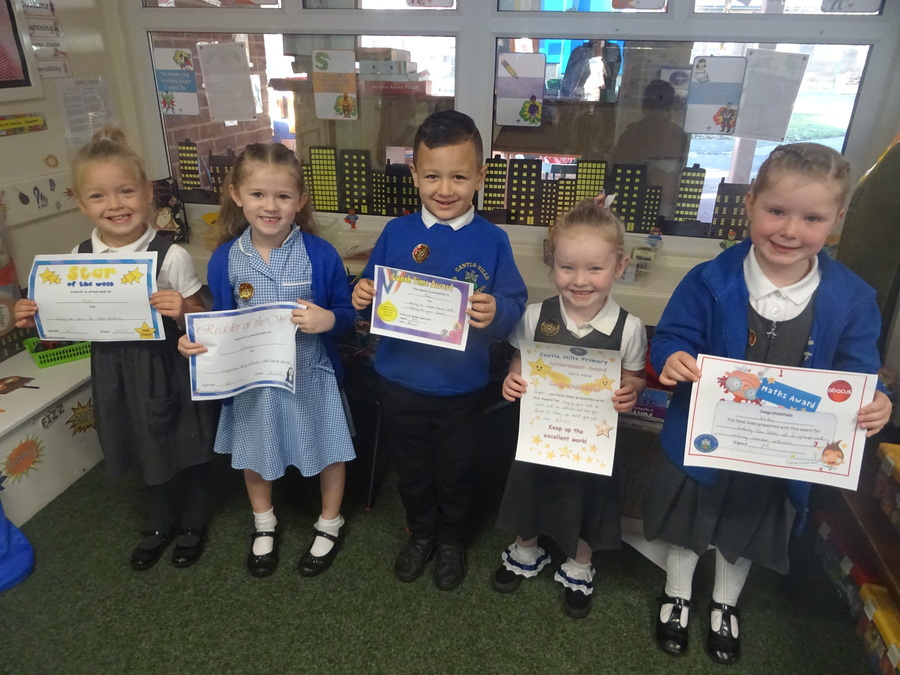 Friday 17th November
Our Achievement Winners!
Callum, Charlotte, John, Lillie-Mae & Elli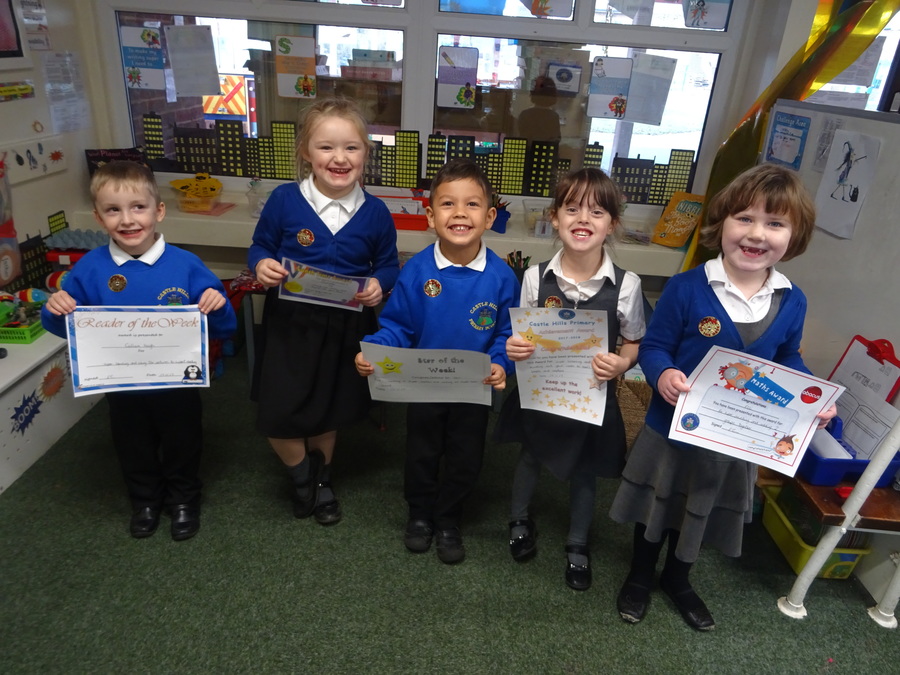 Friday 10th November
Our Achievement Winners!
Joseph, Natalia, Pixie-Rae, Millie and Summer!
Our Christmas Nativity
The Sleepy Shepherd
Song 3 - One Starry Night
Song 4 - Would you like to come with me?
Song 7 - Wake Up, Wake Up!
26th October
We had fun at our Halloween Fancy Dress Ball
23rd October
Parents and carers joined us to a crafty Halloween themed workshop
Friday 20th October
Our Achievement Winners!
John, Deacon, Millie, Matthew, Charlotte and Callum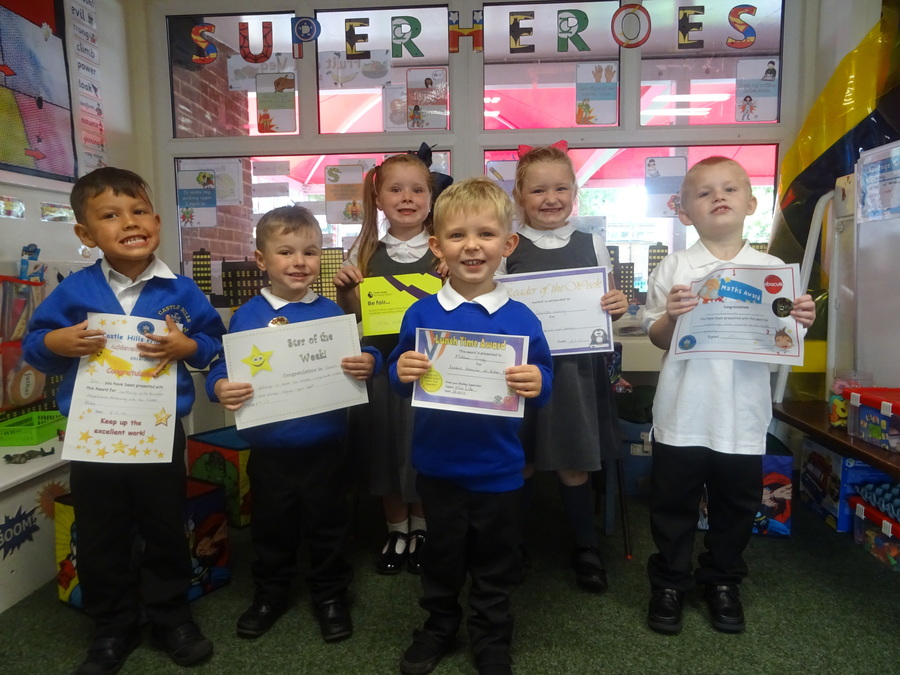 Friday 13th October
Our Achievement Winners!
Well done to William, Charlotte, Estrella, Alec and Electra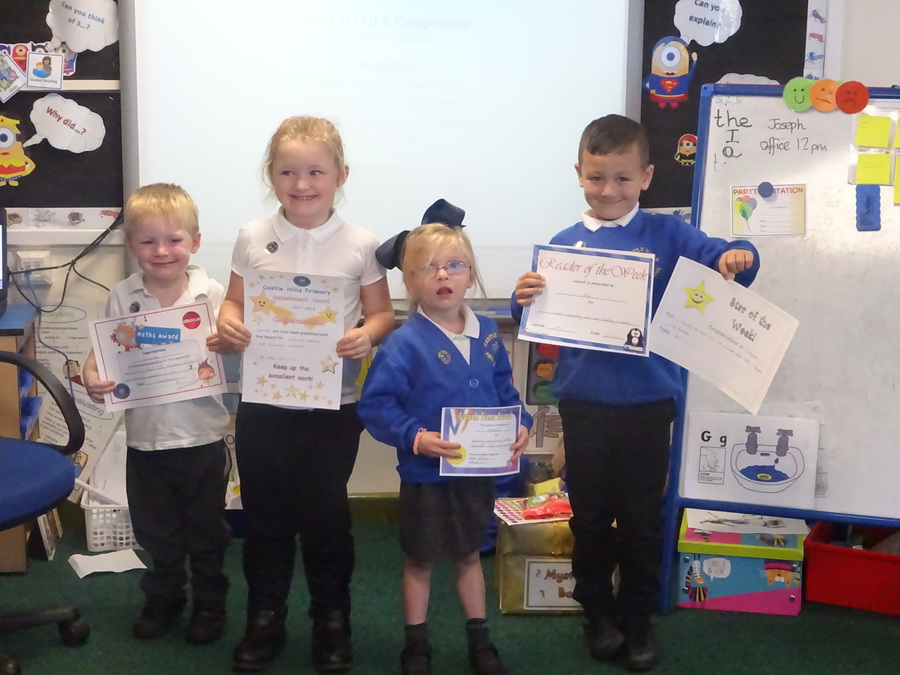 Friday 6th October
Our Achievement Winners!
Well done to Deacon, Estrella, Amelia, Millie and Matthew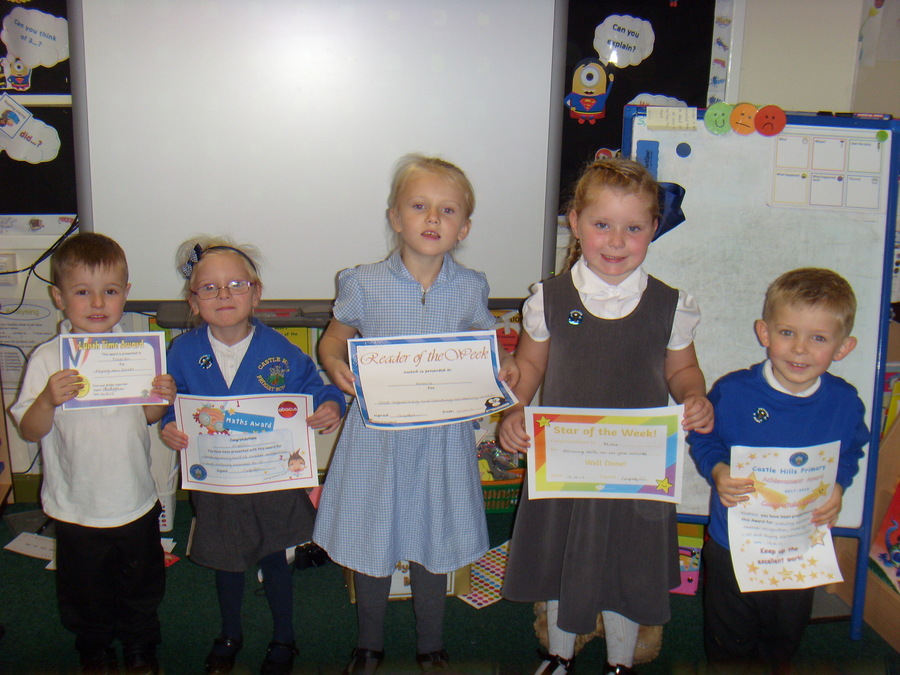 Friday 6th October
Our Achievement Winners!
Well done to Charlotte, Teigan, Tucker, Summer and Deacon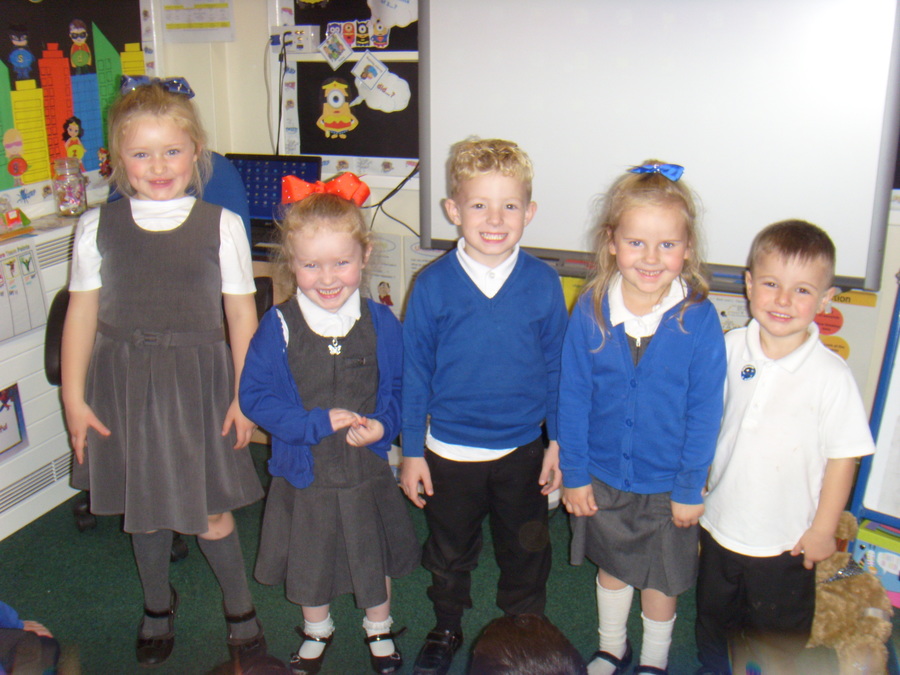 Friday 29th September
Our Achievement Winners!
Well done to our Reader- Elektra, Maths - Tucker, Achiever - Charlotte, Star of the Week- William and Lunchtime Award- Estrella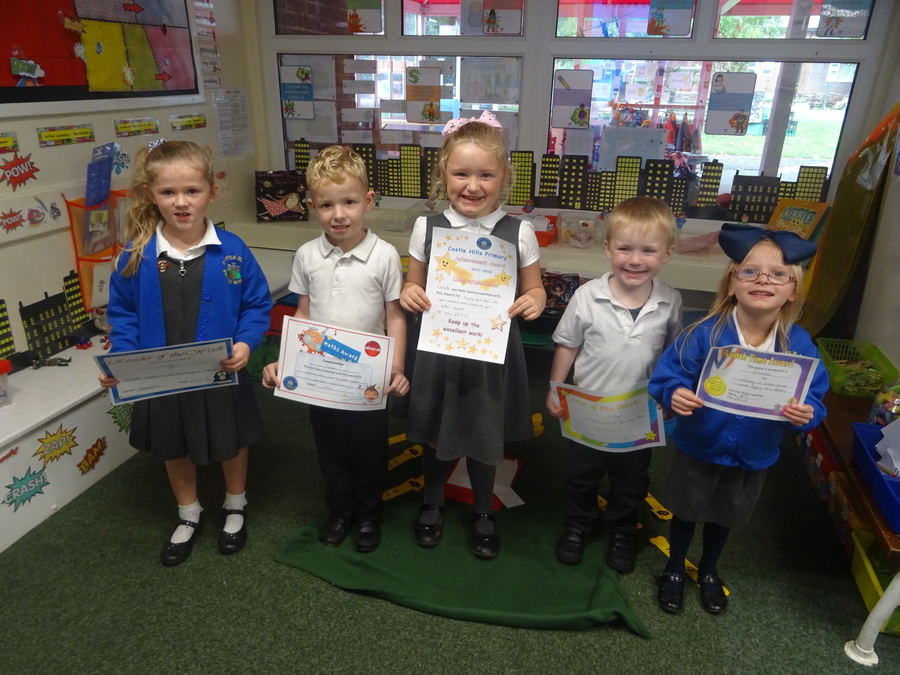 Our Participation in
Active Fusion
Thursday 28th September
The children worked their way around the different sporting events
Challenge Friday
We challenge our children to independently do the activities we have covered throughout the week.
Matching Bananas to numbers then cutting the correct amount of pieces to match the number.

Writing CVC words, encouraging to sound out the letters then blend to write the word.

Counting objects in to numbered plant pots.

Design your own Superhero masks and cut it out.

Using paint and a cotton bud, write the numbers to 10.

Match the correct number of objects to the number tile.

thread the correct amount of pipe cleaners in to the colander to match the number card.
Each child with at least 2 challenges completed earned a sticker and a spot on their Superhero
Friday 22nd September
Our Achievement Winners!
Well done to our Achiever - Joseph, lunch time award - Summer, Reader - Natalia,
Maths - Jonathan, Star of the Week - Matthew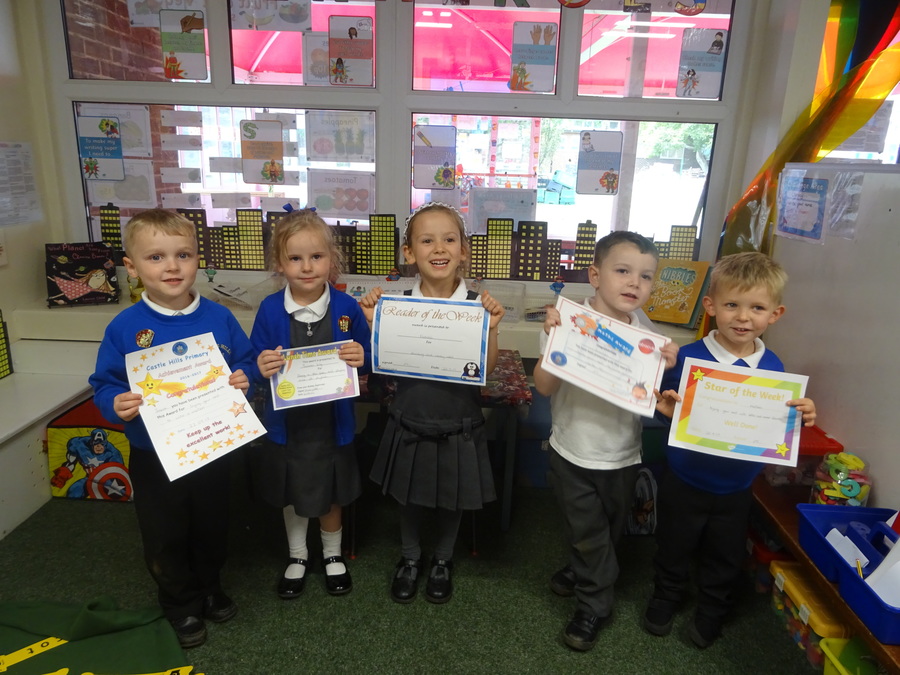 Friday 15th September
Our Achievement Winners!
Well done to our Star of the week - Charlotte, Achiever - Evie,
Reader - Summer, Maths - John and Lunch time award - Alec.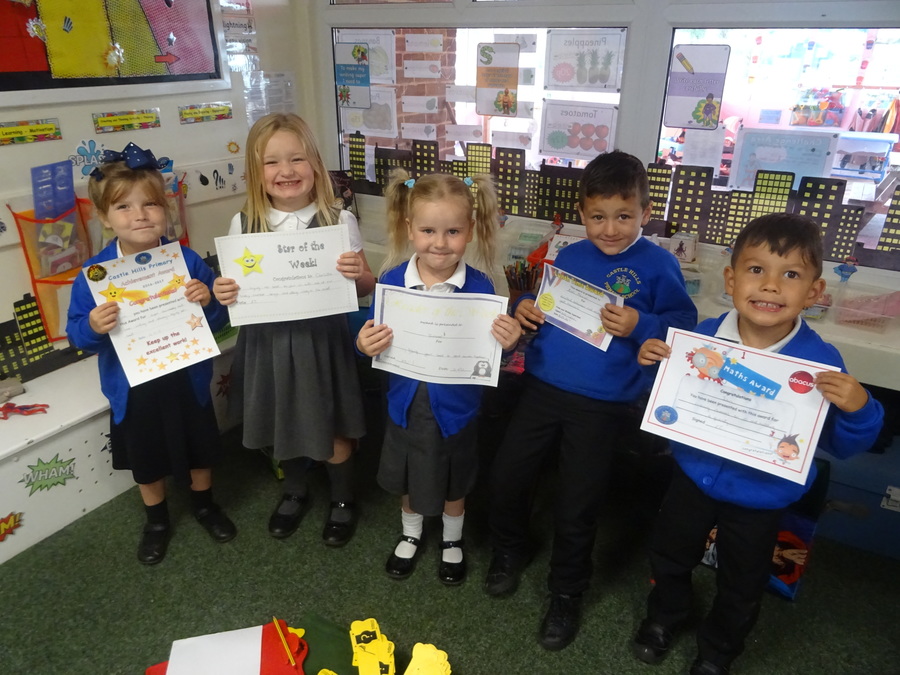 Our 1st P.E lesson with Mr Rossi
Friday 8th September
Our Achievement Winners!
Well done to our Star of the week - Deacon, Achiever - John,
Reader - Charlotte, Maths - Callum, PE - Millie and Lunch time award - Matthew.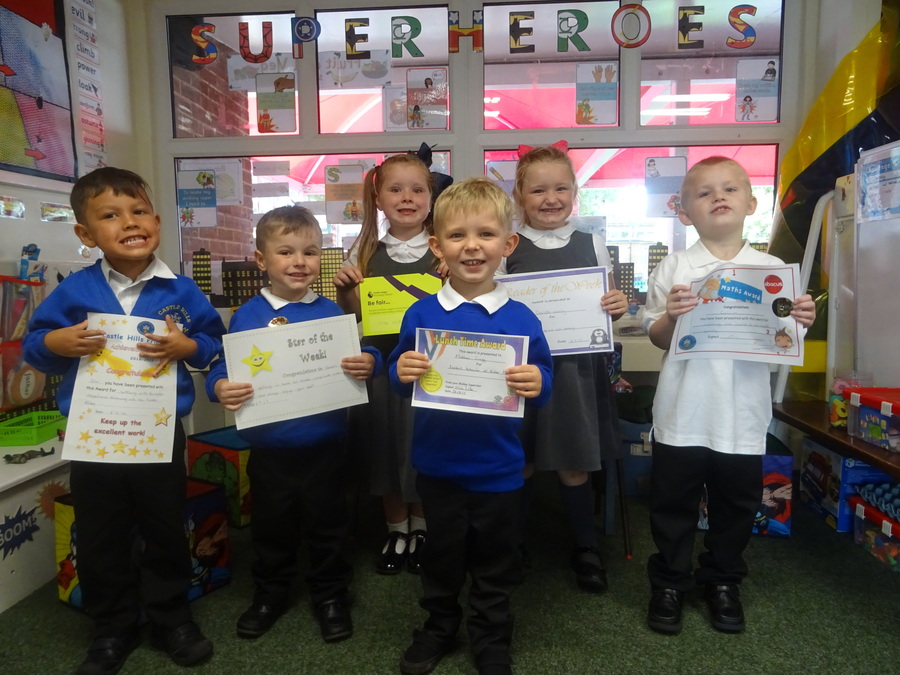 Transition Week
The children enjoyed taking part on our 'Pirate' themed week, meeting new friends, finding buried treasure, making Pirate hats, having a party and much much more.
Comments (5)
Show Comments
Gemma (Charlotte's mummy)
(a couple of months ago)
Teachers are very pleasant, make you feel welcome and supportive. Charlotte has settled into this class lovely. She really has progressed amazing. Over the moon with how quickly she is learning things. Constantly seeing the results each day. Thank you so much!!
Charlie Taylor's Grandad
(about a year ago)
Charlie enjoyed the library visit and has asked if he can go again. I really enjoyed the visit as well and as always it's a pleasure to take part in Charlie's school activities keep up the great work thank you
Kerri-ann (Paiges mummy)
(about a year ago)
The circus looked amazing. I heard all about it from Paige, she really enjoyed it. Keep on having fun and working hard you fabulous little people.
Kerri -ann (Paige's mummy)
(about a year ago)
Great pics!! looks like you all had a brilliant time at Sundown, wish I could have gone! The craft morning/afternoons were fantastic, really enjoyed getting involved. A huge well done to all pupils and teachers on everything you have done so far, like the bike ride and christmas productions. Excited to see what you have for us in 2016.
Charlie Taylors Grandad
(about a year ago)
Looks like you all enjoyed the trip. Keep up the great work, our Charlie has really come on since he's been in your class, really appreciate everything your all doing for him